Close Encounters:
Central European Video Art
(from the Czech and Slovak Republics, Poland and Hungary)
Guest-Curated by Viera Levitt

Fine Arts Center Galleries, University of Rhode Island, January 24-February 10, 2008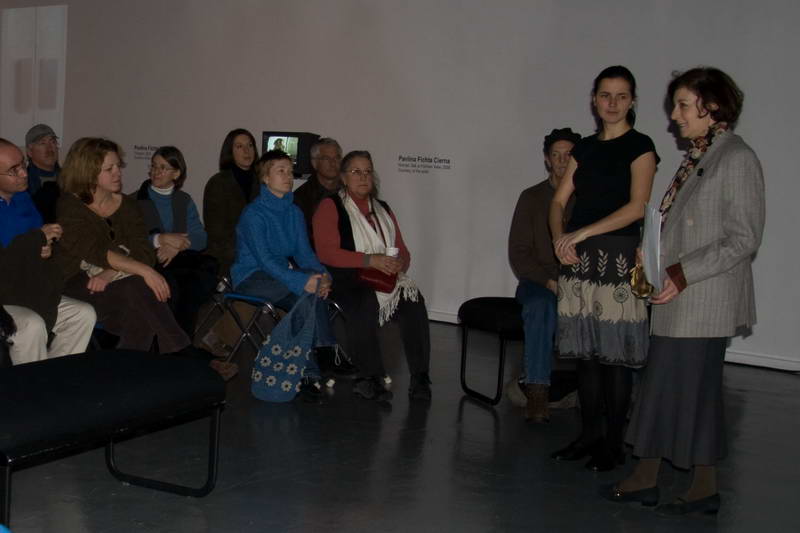 Curator's talk, February 10, 2008



Press Coverage
The human stories of Central European art. Review by Stefan M. Hogan, The Slovak Spectator, February 18, 2008
Next stop: 'Seagull'. Review by Doug Norris, South County Independent, February 1, 2008
Shining a light on common humanity. Review by Doug Norris, South County Independent, February 1, 2008
'Close Encounters' at URI Gallery uncovers the human element of culture. Review by Mark Meehan, Time Out; Narragansett Times, Thursday, January 31, 2008
Curator builds a bridge between two cultures. Article by Doug Norris, South County Independent, January 24, 2008

Links:
Training - exhibition in the train, organized by the Errata Group in Slovakia
Friends of Kingston Station's blog

Artists:
Pavlina Fichta Cierna (b. 1967, Slovak Republic)
Milena Dopitova (1963, Czech Republic)
Hajnal Nemeth (born 1972 in Hungary, lives and works in Berlin)
Katerina Seda (1977, Czech Republic)
Artur Zmijewski (1966, Poland)
Pavel Mrkus (1970, Czech Republic)


The Fine Arts Center Galleries at the University of Rhode Island presents a video art program dedicated to contemporary works created by five prominent Central European artists. In this exhibition, Guest curator Viera Levitt, attempting to find themes within the art of this region that are deeply human and capable of resonating with the American public, has emphasized stories of vulnerability and fragility.
Complementing the video exhibition, the Corridor Gallery showcases Staged Photographs by a leading photographer from the Slovak Republic, Pavel Pecha (January 28 - February 28, 2008).

A portion of the exhibition is mounted in the Historic Kingston Train Station, Amtrak Waiting Room, from January 16 till February 10, 2008.
Kingston Train Station
Artist: Pavel Mrkus (1970, Czech Republic)
Shown in a continuous loop in a bay window, the meditative character of Pavel Mrkus' Seagull, 2005 (4 minutes, with music composed and played by Aziza Sadikova) will intrigue and calm travelers. Partners of this complementary program are the Friends of the Kingston Station and Amtrak. Mrkus, born in 1971 in the Czech Republic, is an international digital media and glass artist represented by a gallery in Dresden. He has also taught at RISD as a Visiting Professor.This video combines a romanticized historical interior with a 3D animation of a flying golden seagull. The ambience of the video setting, its mirrors and shining chandelier, strangely echoes the décor of the Kingston Station Waiting Room.

An Illustrated Program Guide accompanies the exhibitions.



Files to download:
Press Release (word document)
Poster (pdf file)
Handout from the Kingston Train Station (pdf file)
Handout from the Main Gallery, URI (pdf file)
List of exhibited works (pdf file)
Exhibition view (Katerina Seda) (hi-res jpg file)
Exhibition view (Milena Dopitova) (hi-res jpg file)

Thanks
In New York: Apexart, Czech Center, Hungarian Cultural Institute, Anne Arden McDonald, Polish Institute, and Steven Rand;
in Rhode Island: Department of Communication Studies, URI; Jo-Ann Conklin, David Winton Bell Gallery, Brown University, Courthouse Center for the Arts, West Kingston, Friends of Kingston Station, Kingston, Kristina Cinquegrana, and The Rhode Island Foundation, a charitable community foundation serving the people of Rhode Island; and Czech and Slovak Association in Boston
Co-financed from the grant of Ministry of Culture of Slovak Republic

Special thanks
Judith Tolnick Champa, Director of the URI Fine Arts Center Galleries

For more information
please contact Viera Levitt
or go to www.uri.edu/artgalleries