Curator builds a bridge between two cultures

Doug Norris/Arts & Living Editor
January 24, 2008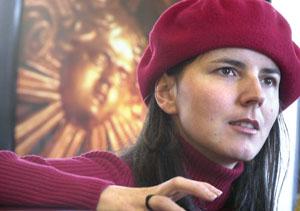 WEST KINGSTON - A gold sea gull flaps its wings in a bay window at the Kingston Train Station, while passengers check their timetables, waiting for the Amtrak train to New York.
The imagery by Pavel Mrkus, an artist from the Czech Republic who once taught at the Rhode Island School of Design in Providence as a visiting professor, is part of a satellite exhibition from a larger show introducing South County audiences to Central European video art. Titled "Close Encounters," a main exhibition featuring five artists from Slovakia, Hungary, Poland and the Czech Republic, opens today at the University of Rhode Island. Work by Slovakian photographer Pavel Pecha will complement the show at the URI Fine Arts Center's Corridor Gallery.
"It's a mix of two worlds," said Viera Levitt (formerly Jancekova), a native of Slovakia and resident of Wakefield who is guest curator for the exhibition. "I was looking for something that would show human stories and express universal feelings across cultures."
Levitt, who came to Rhode Island two years ago, was the director/curator of the contemporary art showcase, Jan Koniarek Gallery, located in the town of Trnava. The youngest director ever in a public art museum in the Slovak Republic, she said that a strong underground community and groups of artists who were "collaborative, not competitive" helped form ideas about what art could and should be.
As a contemporary art curator, Levitt coordinated projects that ranged from the traditional to the cutting edge. She has curated or co-curated more than 30 exhibitions in Slovakia, the Czech Republic, Germany, Austria, Luxembourg and the United States. She also writes an art column in the Slovak newspaper, SME, and serves on the editorial board of the art magazine, Dart. In Trnava, she was responsible for exhibiting art in two museum buildings.
"One was a former synagogue," she said. "During the Second World War, 3,000 Jewish people were killed, or disappeared. The synagogue was used as storage space for a carpet store. Eventually it burned, and the town gave the gallery the building. More traditional work gets lost in the space there so it made sense to do installations. We had an artist come in and construct a giant labyrinth. Another made this piece that used a shallow pool of water that acted like a giant mirror reflecting the architecture. It was very beautiful."
Levitt continued to push the envelope as a curator. One of her projects was "Training," a performance art piece in which artists worked in a special carriage on an active commuter train. Passengers visiting the carriage could interact with artists and curators, who were there to help explain the art.
Another time she invited Bill Seaman, a professor of art at RISD, to spend a few days in Trnava. The result was a work called "Epiphany."
"The town has these traditional, rectangular street signs," she said. "We created new versions of the signs. He wrote bilingual, poetic text [on them] and placed them at streets all around the town, based on his observations...'the sound of footsteps on the stone,' for example. People talked about them. About four or five were stolen, which we considered a success."
Levitt was introduced to Rhode Island in 2002, when she completed a residency program at RISD.
"When I knew I was going to Providence I looked Rhode Island up in the dictionary, because I didn't know anything about it," she said. "And the only thing it said was that it was the smallest state in the U.S., famous for the Rhode Island chicken. I asked myself, do I want to go to a place that's just famous for a chicken?"
Now that she's here, she finds many parallels to her homeland.
"It's so interesting because in some ways Slovakia is very similar to Rhode Island," she said. "It's a small state and people are very comfortable just staying here, not wanting to travel very far to do anything. It's very family oriented here, and it's the same in Slovakia."
Part of what the Central European video art show is designed to do, Levitt said, is to provide a window into another culture that is not all that different from our own.
"One of the aspects we don't really show is the humor of the people," Levitt said. "These are countries that have had similar pasts since the end of World War II, going through Communism and revolutions and entering the European Union as democratic countries. So I wanted to focus on the people, because I think everybody can relate to the feelings in these pieces. They aren't political. They're human. And even though you don't see it much in this exhibition, there is a strong element of humor in the people of Central Europe. Sarcasm is very much a part of the culture. Probably it was developed as self-protection against the absurdity of the system."
Levitt will offer remarks during a closing reception on Sunday, Feb. 10, from 2 to 4 p.m. at URI's Main Gallery, where she'll draw from one of her lectures, "Who's Afraid of Contemporary Art?" She will also offer observations on Central European art in general and the "Close Encounters" exhibition in particular. She said that, while there isn't much money in being a curator, it's one of those professions that "if you love to do it, you do it."
"A lot of it is just facilitating and managing artists," she said. "There's the idea of the meta-artist, putting pieces together and creating a mosaic of artworks. In Europe, there's a sense of the curator as a very powerful person playing chess with the artists, which is a notion that I don't really like. For me, it is important to have a sense for what works together, fitting pieces that talk to each other and look complete in the space. There was an Italian curator who once said to me, 'You can be a curator.' I had my doubts, so I said, 'How come?' And she said, 'Because you're curious, and that's the most important quality you need to be a curator.'"
"Close Encounters" opens today in the Main Gallery at the URI Fine Arts Center off Upper College Road in Kingston. "Seagull" is on display in the Amtrak waiting room at Kingston Train Station in, West Kingston. Both exhibitions will run through Feb. 10. "Staged Photographs" by Pavel Pecha will be on display at the Corridor Gallery, URI Fine Arts Center, beginning Monday and continuing through Feb. 28. For more information, call 874-2775 or log on to www.uri.edu/artgalleries.
Copyright © 2008 South County Independent. All Rights Reserved.