Mobile Art Project
Announces
Aqua Alta
October 22 – 28, 2009

Hera Gallery in collaboration with Independent Curator, Viera Levitt, is pleased to announce that the Mobile Art Project will be traveling again in October throughout South County and Rhode Island. The Mobile Art Project presents contemporary artwork within the space of a 16-foot box truck. The upcoming installation will be a reprise of the sound installation by internationally exhibiting artist, China Blue, entitled Aqua Alta.

The Mobile Art Project recently had its inaugural trip, driving to various local destinations (Peace Dale, Wakefield, Narragansett, West Kingston and Providence). Its idea was to 'bring art to the people' rather than getting people to 'come to the art' by bringing art that travels to homes and places of recreation for diverse audiences. The response from the community was positive and enthusiastic. As a result, Viera Levitt and Hera Gallery plan to take the Mobile Art Project from October 22nd till October 28th to different neighborhoods in Rhode Island, with the focus on schools and other educational venues.
Video by Valerie Kitchin
The installation, Aqua Alta, addresses environmental issues associated with the water. Additionally, the Mobile Art Project is again collaborating with Save the Bay, which will provide a representative to discuss the ecological aspects of the project (Tuesday, October 27, CCRI 2-4 p.m.). Mobile Art Project can be useful both as a contemporary art gallery and as a teaching tool to help students look at various issues associated with water. We look forward to working with teachers, scientists, and educators to help us expand upon the project. To date, venues scheduled for the second exhibition include University of Rhode Island, Community College of Rhode Island, and local schools.

If you are interested in working with the Mobile Art Project, please contact Hera Gallery.
Date
Location
Thursday
October 22
University of Rhode Island, Outside of Art Department Building, 12 a.m. – 5 p.m.
Friday
October 23
Kingston Hill Academy, 9 a.m. – 12 p.m.

Weekend

-
Monday
October 26
Pennfield School Portsmouth, 9 – 11:30 a.m.
Met School Newport, 12:30 – 3 p.m.
Tuesday
October 27
Community College of Rhode Island, Knight Campus in Warwick, 11 a.m. – 4 p.m.
Wednesday October 28

Wakefield Elementary, 1 a.m. – 3 p.m.
Click here for 2 minutes sample of Aqua Alta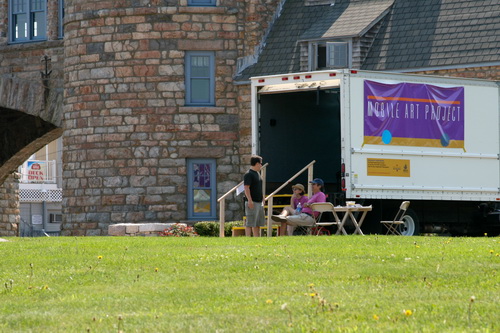 Aqua Alta will be presented in a 16-foot box truck, which will travel to various locations in South County. Visitors will be able to stand or sit on comfortable benches inside of the truck.
China Blue's recordings are made with specialized audio equipment including hydrophone arrays and seismic microphones. The work captures the unique sounds of the water and the creatures of Providence's canals and Narragansett Bay. Sounds are sampled from the water's edge, and around and under the gondolas in the lagoons. This work was inspired by the effects of global warming on the environment, both under and above the surface of the water.
According to the artist China Blue, her installation Aqua Alta, "echoes the ebb and flow of water on our planet. The same water that washes the canals of Venice, breaks at the feet of the Statue of Liberty and runs through the canals of Providence. It rises up and rains down. It is as ordinary as it is threatening."Additionally, the Mobile Art Project is collaborating with Save the Bay, which will provide a representative to discuss the ecological aspects of the project. This project should be of particular interest to Rhode Island residents of the "Ocean State," given how much recreational summer time is spent enjoying rivers, lakes, and oceans.

The Mobile Art Project: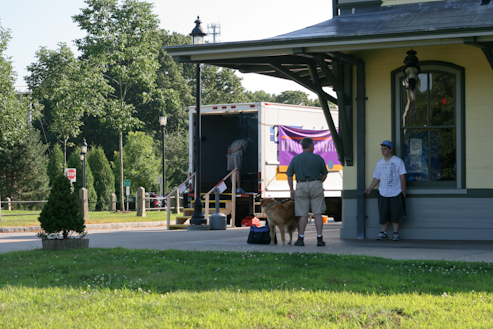 The intention of the Mobile Art Project is to bring contemporary art to communities in Southern Rhode Island where few or no formal art institutions currently exist. The Mobile Art Project also works to make contemporary art not only physically accessible to diverse populations but psychologically accessible as well. Providing art that 'travels' to homes and places of recreation for a diverse demographic, is a way to 'bring art to the people' rather than getting people to 'come to' the art. The Mobile Art Project will visit different neighborhoods in Rhode Island and will be parked outside locations such as community centers, libraries and other non-profits as well as block parties, ice cream stores, beaches, and farmer's markets.
The show will include a leaflet and website with photographs from the exhibition, curatorial texts and comments from the public including excerpts from a questionnaire. At each stop on the tour, Mobile Art Project staff will be available to speak with visitors.
Additionally, we invite the public to propose future sites where they feel that Mobile Art Project's presence would be valuable.


About Water

Water is life and it connects life through space and time. A symbol of purity, fertility and the source of life itself, water is the essential element in every culture's creation myth and an important part of every religion. The water of Narragansett Bay connects us with water across the globe whether frozen in a glacier or held deep underground.
Water is the most abundant element on earth and is the only element that exists as a solid, liquid and gas under natural conditions. The overall amount of water on earth has remained the same for two billion years. Ninety seven percent of it is in oceans and seas, and less than one percent is available for human use.
All life forms have an effect on their immediate environment. A full grown tree transpires 70 gallons of water a day. Because of our large numbers and technological footprint, humans have had a profound effect on the water cycle and planet's climate. Rhode Island is relatively water rich and yet we have inadequate resources for our needs. We use more water than is replaced naturally. Paved surfaces prevent rain from becoming groundwater, instead it is sent to the Bay.
Narragansett Bay is also changing. Normal cycles are out of balance. The Bay is now warmer on average than at any other time in recorded history. Native fish such as winter flounder and cod have declined in our area, to be replaced by striped bass, summer flounder and menhaden. Lobsters are being replaced by crabs. Pollution from sewage and rain water runoff causes algae blooms which cloud the water and rob it of oxygen.
New England has the country's largest concentration of small dams. Rhode Island and Massachusetts witnessed the birth of the industrial revolution. Almost every river in the state has been dammed at one time to provide water power, cutting off access to habitat for fish that use these rivers. The fish remember. They return every year to the river in which they were born so that they can continue the cycle of birth and death, in turn feeding countless numbers of other birds, fish and mammals. Rivers provide passage, food and shelter.
The sound installation presented here is about our connections with water. It presents an element of water we seldom connect with. Water creates and carries sound. While we generally experience water through touch, taste or smell, we are reminded here that water is in us and around us. For the animals that live within water, it is their element, carrying the oxygen they breathe and the sounds they hear.
Rachel Calabro (Community Organizer, Save The Bay)

Schedule and images (slideshows from each location) of the inaugural show, August 13 – August 18, 2009

Date
Before noon
Afternoon or evening
Thursday
August 13th
Peace Dale Village rotary (for slideshow click here)
Friday
August 14th
West Kingston Train Station 3pm – 5pm
Parking lot of the Courthouse Center for the Arts from 6.30pm, before their performance Fame: The Musical at 8pm (for slideshow click here)
Saturday
August 15th
FOO Fest, Empire Street, AS220, Providence, 1pm - 5.30pm
(for slideshow click here)
Sunday
August 16th
"The Wall", Ocean Rd, Narragansett (10am - noon)
(for slideshow click here)
Peace Dale Village Green (Neighborhood Guild parking lot) from 5pm (before the concert of Avenue A at 6pm)
(for slideshow click here)
Monday
August 17th
Parking lot outside of Belmont Market, Wakefield (10 am - noon; 3pm - 5.30 pm)
(for slideshows of images click here)
Tuesday
August 18th

Senior Center, Wakefield,
10 am - noon
(for slideshows click here)

Peace Dale Library parking lot
1:30 - 4:30pm
(for slideshows of images click here)


Independent curator Viera Levitt (www.vieralevitt.org) often takes art out from the 'artificial bubble' of traditional exhibition spaces and into a wide array of public spaces including moving trains, train stations and urban environments where the public and the work can interact. From 1996 to the present, she has curated or co-curated more than forty exhibitions in Slovakia, the Czech Republic, Germany, Austria, Luxembourg, and the USA. She has given lectures about contemporary art in Bratislava, Berlin, Rotterdam, Hiroshima, New Delhi, Caracas, and Rhode Island.

China Blue (http://chinablueart.com) is an internationally exhibiting artist who pursues the intersection of sound, art and architecture. Her work has been shown in museums, galleries and non-profit spaces around the world. She is represented by Galerie Barnoud, Dijon, France and Art Currents, New York.

Hera Gallery (www.heragallery.org), founded in 1974 as a site for woman's art, understands the need to provide art that engages the unengaged and that makes art physically and aesthetically accessible. The Hera Educational Foundation promotes an artistic presence that enhances the community through education, collaboration and involvement and encourages artists and their audience to explore contemporary cultural, social and aesthetic issues.

This program is presented with partial support from The Rhode Island State Council on the Arts, The Puffin Foundation, Hera Educational Foundation, and The Friends of Hera. Hera Gallery is free and open to the public and is accessible to persons with disabilities.

Partner of the project
Special thanks:
Judith Tolnick Champa, Rachel Calabro, Island Reflections, Jeannette Jacobs, Guy LaTour, Jim Smart, Darrell Matsumoto, Marc Levitt, Islay Taylor, Liberty Rentals, South County Tourism Council, Peace Dale Neighborhood Association; Penske, Cranston Headquarters
and others
Media partner
AS220, Providence
Belmont Market
Courthouse Center for the Arts, West Kingston
Peace Dale Library
South Kingstown Parks and Recreation Department, The Center (South Kingstown Senior Services), Wakefield, Neighborhood Guild
Kate Vivian, The Towers in Narragansett
Sweet Cakes

Contact:
Viera Levitt, 401.714.9698, http://vieralevitt.org/mobileartproject.htm, vieralevitt [at] gmail.com
Hera Gallery, Islay Taylor, PO Box 336, Wakefield, RI 02880, 401.789.1488, info@heragallery.org, www.heragallery.org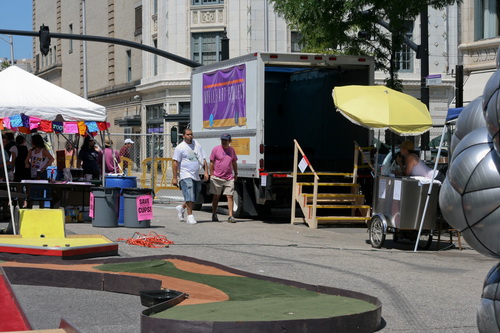 FOO Fest, Empire Street, Providence (for more images from FOO Fest, click on this photo)